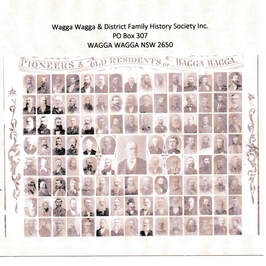 Pioneers of Wagga Wagga & District
A major project of the Society has been to compile biographical information on the early pioneers of the Wagga Wagga district. This Pioneer Register contains information on people that resided in the area prior to Federation in 1901. Information includes spouses, children, occupation and a wealth of biographical information. The Register is kept in the Library or available for purchase on CD (Click Here)
---
Births, Deaths, Marriages, In Memoriams & Sundry Records (1998-2017)
Available for family history researchers in the Society's Rooms, this resource is a compilation of over 35,900 entries of Births, Deaths, Marriages and In Memoriams of Wagga Wagga and surrounds from the Wagga Wagga Daily Advertiser as well as additional information from the Wagga Wagga City Council, Wagga funeral directors and the WWDFHS records. It is a unique project compiled by Neil Dallinger.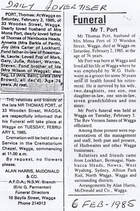 Newspapers
Today's news is tomorrow's family history. WWDFHS maintains clippings files from local Newspapers. These include Births, Deaths, Obituaries, human interest stories on local people, pastoral properties and other major properties in the area. Whilst many newspapers up to the mid 1950s are available on line through Trove, this is a resource which covers the last 30 years that may be able to provide more recent information on your family members.


---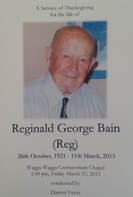 Funeral Order of Service Sheets
Funeral Service Sheets provide a wealth of information of a person's life and family links. WWDFHS has a digital collection of Service sheets. Families are welcome to donate a copy of their loved ones' Service Sheet and eulogies for the collection.
---
Riverina Cenotaphs & War Memorials
​Local people that served in World War 1, World War 2 and other conflicts are commemorated in every community on war memorials and honour boards in Clubs, Schools, and Halls across the country. To mark the centenary of WW1, in 2017/18 the WWDFHS undertook a project to record and photograph these memorials. Covering over 115 towns and villages within 100km radius of Wagga Wagga, volunteers sought out all these memorials - in the main streets, local footy clubs, bowling clubs, service clubs, schools and community halls.
​The WWDFHS now has a digital database of over 64,000 names listing all those honoured with photographs of the memorial on which they are listed. The database and photos are available on CD for sale through the society. This is a valuable resource for those researching soldiers who have served in the Australian services in all conflicts.

---
My Convict
The Society is currently collecting information on the convict ancestry of Members and those in the Wagga Wagga District. Download the "My Convict" Form below (use separate form for each Convict) and return to the society's rooms or via email to wwdfhs@yahoo.com.au
Collated information is available at the Library
Illustrations by Helen Lubke.

---